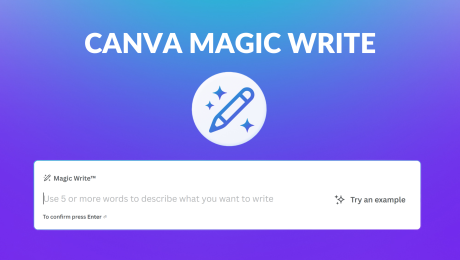 Canva is a place that helps you create eye-catching designs and graphics easily, even if you're not a
professional designer. It offers templates and simple tools to make things like posters, social media
images, presentations, and more. Canva makes design accessible and fun for everyone!
Canva has been a huge help in the field of making things seem attractive. Canva now has an amazing
a feature called Canva Magic.
What's Canva Magic?
It's a design magic wand! Imagine if making things look awesome was as easy as saying "abracadabra."
Well, that's kind of what Canva Magic does. It's a special thing in Canva that helps you make your
designs look according to your liking. It's like a superpower for your creativity!
Features Canva Magic Brings
Brainstorm and generate new ideas: This will assist you in coming up with ideas and topics
Short text generation: With a few prompts, you may create any brief content, such as social media headlines, profile profiles, product descriptions, and more.
Long form Text Generation: Create high-quality long form material for blogs, sales emails, tales, and more in a flash. You will notice a speedier writing process.
Continue writing: Allow Magic Write to continue creating the rest of the material while you search for words and ideas in the middle of a sentence. Highlight your existing content, add a few prompts, and Magic Compose will compose the next sentences for you.
Create outlines: Al's writing assistant, Magic Write, can help you easily develop outlines for articles, blogs, and essays, as well as better structure any content.
Make lists: Al's writing tool allows you to create lists ranging from pros and drawbacks to marketing plan lists, allowing you to focus on writing better and faster.
Headline Generator: Uses the terms you select to make catchy headlines and taglines for your blog, article, essay, tale, and more.
Paragraph Generator: This generates full paragraphs in your desired tone or voice for blogs, articles, short stories, and other types of content.
Rewrite Tool: A tool that allows you to quickly and easily rewrite any content.
Magic Shortcut: A keyboard shortcut for any type using our custom/Magic Shortcut.
Paraphrasing Tool: An Al-powered paraphrasing tool that rephrases and rewrites any content, so you can edit and turn any content into a unique paragraph
Summary Generator: This is an Al-enabled text summary tool that extracts relevant key words from any piece of content, giving you a shorter and more understandable version.

How to use the CanvaMagic: Everyone Can Be a Design Pro
Canva Magic doesn't take away your creativity – it enhances it. It's like having a buddy that helps you
make your ideas look even better. Follow these steps to create a perfect design:
Create a design or open an existing design.
Select the 'Canva Assistant' button in the bottom right corner of the screen. You can also type to open the Canva Assistant shortcut. In your Canva document, select the + icon.
Enter or describe the desired text. For example, "3 tips for a healthier lifestyle." The more precise details you provide, the better result will generate. Make sure to add relevant keywords in your sentences.
Press Enter when you are satisfied. And just like magic, your text will appear.
Finally, correct and edit the text according to your needs. When you're ready, finalize and share your design.
What are the limitations of Magic Write?
Be careful when generating text using Magic Write.
Use updated information only until mid-2021. This means that some of the generated text may contain outdated information so make sure you do your research.
Instructions come only from text you type or use in your document. The more context and direction you provide the better results you will get.
Incorrect or non-unique text may be generated.
The input limit is maximum 1500 words and the output limit is approximately 2000 words. This means that the generated text may be reduced in the middle of sentences.
Conclusion
With Canva Magic, making things look great is like having a magic wand. Boring stuff like editing and
fixing becomes easy, and you can focus on making things look fantastic. It's like Canva's way of saying,
"Hey, you can make awesome stuff, and I'm here to help!" So, go ahead, try out the magic, and see how
your designs can be totally enchanting!
In the fast-paced digital world Mean3 is excited to explore the world of Canva magic. Mean3's core
strength lies in delivering visually engaging content to its audience. Canva Magic aligns perfectly with
this objective by offering instant image enhancement, making even the simplest images pop with
vibrant appeal. This enhancement tool saves time and effort, ensuring that Mean3's visuals consistently
resonate with their audience.
By incorporating Canva Magic, Mean3 can achieve a more consistent brand identity, engage its audience
with captivating visuals, and ultimately solidify its position as a design-savvy industry player.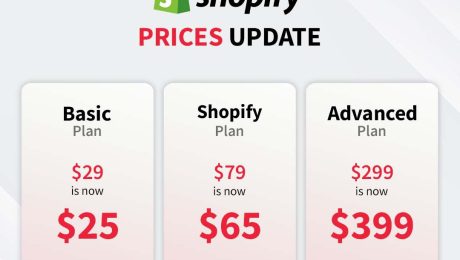 When Shopify was established in 2006, it brought an exciting concept to the market: providing merchants of all sizes with the top e-commerce tools available to make commerce simpler and more accessible for everyone.
Though much has been altered in past years, some important aspects remain the same. The cost to access superior e-commerce tools has remained roughly constant. With regards to better supporting the mission and merchants, Shopify has been an announcement to update of the pricing plans – Basic, Shopify, and Advanced.
Current Shopify users can rest easy for the next three months, as their prices will remain unchanged. However, newcomers to the platform are being welcomed with lower introductory rates of just $1 per month during their trial period! No matter your experience level or budget, you'll be hard-pressed to find another eCommerce solution that gives you more value than Shopify.
Evolution and Innovation With Time:
Shopify is dedicated to making tomorrow more possible than we can imagine today. The objective is to allow entrepreneurs and businesses of all varieties to construct, create and excel in any environment around the globe. They build tools driven by a passion for creating a better future!
Shopify has always been dedicated to providing merchants with the most cutting-edge, reliable, and efficient tools on the market at an unbeatable price. The commitment requires Shopify to frequently update and upgrade the products so they can stay ahead of competitors – but no matter how much technology changes over time, the core mission remains unchanged.
Updated Pricing:
Basic: The basic plan was $29 per month. Now updated to $25 per month.
Shopify: Shopify plan was for $79. Now updated to $65 per month.
Advanced: Advanced plan was for $299. Now updated to $399 per month.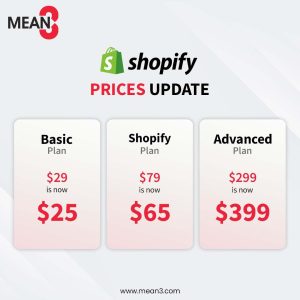 Wrapping up:
By making this change, Shopify can persist in tackling some of the most challenging issues in the business with those best suited to take them on. This modification also allows Mean3 to push boundaries and empower more individuals to pursue their entrepreneurial dreams at speed essential for everyone's benefit. Together, let's make commerce better!
Wednesday, 23 November 2022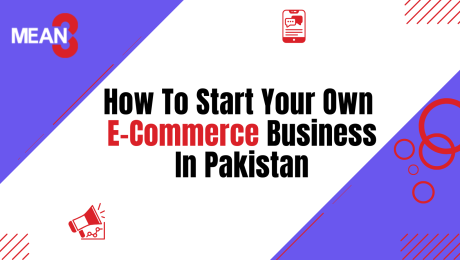 Pakistan has seen a boom in e-commerce in recent years. The country's population is increasingly turning to online shopping for their needs, whether for clothes, electronics, or other items.
There are many reasons behind this trend:
Pakistanis are becoming more comfortable using the internet and making online purchases.
There is a greater choice of online products and brands than in traditional brick-and-mortar stores.
E-commerce offers the convenience of being able to shop from anywhere at any time.
This trend looks set to continue in the years to come as more and more businesses move online and Pakistani shoppers become even more comfortable with e-commerce. If you are also considering starting an e-commerce business in Pakistan, this guide will give you all the information you need to get started.
How to Start a Successful Ecommerce Business in Pakistan in 2022:
According to recent estimates, the country's e-commerce market is currently worth around $1 billion and is expected to grow to $5.4 billion by 2025. This presents a huge opportunity for entrepreneurs looking to start their online businesses.
If you're thinking about starting an eCommerce business in Pakistan, there are a few things you need to keep in mind. In this article, we'll share tips on starting a successful eCommerce business in Pakistan.
1. Select the right platform
There are a number of different platforms you can use to launch your eCommerce store. The most popular option is to use an existing platform like Shopify or WooCommerce. These platforms provide everything you need to start, including hosting, payment processing, and security.
Another option is to develop your eCommerce platform. This can be a more complex and expensive option, but it may be the right choice if you have specific requirements that an off-the-shelf solution can't meet.
2. Find the right niche
One of the keys to eCommerce success is finding a niche market that you can serve well. When selecting a niche, it's important to consider a few factors, such as:
The market size: You must ensure enough demand for your products or services.
The competition: It's important to find a niche that isn't too crowded. Otherwise, it will be difficult to stand out from the competition.
Your expertise: It's also important to choose a niche you know about. This will make it easier to create content and marketing materials that resonate with your target audience.
3. Create a strong branding strategy
Brand identity should be the top priority. It's important to develop a strong branding strategy before you launch your eCommerce store. This should include things like your brand name, logo, and tagline.
Your branding should be consistent across your marketing materials, including your website, social media accounts, and email newsletters. This will help you build recognition and trust with your target audience.
4. Invest in marketing
Once you've launched your eCommerce store, you need to start driving traffic to it. You can use several different marketing channels, including Search Engine Optimization (SEO), pay-per-click (PPC) advertising, and social media marketing.
Experimenting with different marketing strategies to see what works best for your business is important. You may also consider hiring a digital marketing agency to help you get the most out of your marketing efforts.
5. Focus on the customer experience
There are many things you can do to improve the customer experience, including:
Offering fast and free shipping: Customers expect to receive their orders quickly and without paying for shipping.
Making it easy to return items: Customers should be able to return items if they're not happy with them easily.
Providing excellent customer service: If customers have problems with their orders, they should be able to get in touch with someone who can help them quickly.
Focusing on the customer experience will make you more likely to retain customers and grow your business.
Conclusion:
These are just a few tips for starting a successful e-commerce business in Pakistan. But, it is not as easy as it seems. So, we suggest taking some professional help. Don't worry; we have got you covered— Mean3 is a leading digital marketing agency in Pakistan. We have a team of experienced professionals who can help you with all aspects of your eCommerce business, from developing your website to marketing your products.
Moreover, we can also guide you on how to start an eCommerce business in Pakistan step by step. Get in touch with us today to know more about e-commerce business in Pakistan.