Wednesday, 23 November 2022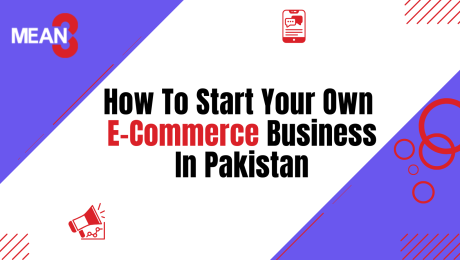 Pakistan has seen a boom in e-commerce in recent years. The country's population is increasingly turning to online shopping for their needs, whether for clothes, electronics, or other items.
There are many reasons behind this trend:
Pakistanis are becoming more comfortable using the internet and making online purchases.
There is a greater choice of online products and brands than in traditional brick-and-mortar stores.
E-commerce offers the convenience of being able to shop from anywhere at any time.
This trend looks set to continue in the years to come as more and more businesses move online and Pakistani shoppers become even more comfortable with e-commerce. If you are also considering starting an e-commerce business in Pakistan, this guide will give you all the information you need to get started.
How to Start a Successful Ecommerce Business in Pakistan in 2022:
According to recent estimates, the country's e-commerce market is currently worth around $1 billion and is expected to grow to $5.4 billion by 2025. This presents a huge opportunity for entrepreneurs looking to start their online businesses.
If you're thinking about starting an eCommerce business in Pakistan, there are a few things you need to keep in mind. In this article, we'll share tips on starting a successful eCommerce business in Pakistan.
1. Select the right platform
There are a number of different platforms you can use to launch your eCommerce store. The most popular option is to use an existing platform like Shopify or WooCommerce. These platforms provide everything you need to start, including hosting, payment processing, and security.
Another option is to develop your eCommerce platform. This can be a more complex and expensive option, but it may be the right choice if you have specific requirements that an off-the-shelf solution can't meet.
2. Find the right niche
One of the keys to eCommerce success is finding a niche market that you can serve well. When selecting a niche, it's important to consider a few factors, such as:
The market size: You must ensure enough demand for your products or services.
The competition: It's important to find a niche that isn't too crowded. Otherwise, it will be difficult to stand out from the competition.
Your expertise: It's also important to choose a niche you know about. This will make it easier to create content and marketing materials that resonate with your target audience.
3. Create a strong branding strategy
Brand identity should be the top priority. It's important to develop a strong branding strategy before you launch your eCommerce store. This should include things like your brand name, logo, and tagline.
Your branding should be consistent across your marketing materials, including your website, social media accounts, and email newsletters. This will help you build recognition and trust with your target audience.
4. Invest in marketing
Once you've launched your eCommerce store, you need to start driving traffic to it. You can use several different marketing channels, including Search Engine Optimization (SEO), pay-per-click (PPC) advertising, and social media marketing.
Experimenting with different marketing strategies to see what works best for your business is important. You may also consider hiring a digital marketing agency to help you get the most out of your marketing efforts.
5. Focus on the customer experience
There are many things you can do to improve the customer experience, including:
Offering fast and free shipping: Customers expect to receive their orders quickly and without paying for shipping.
Making it easy to return items: Customers should be able to return items if they're not happy with them easily.
Providing excellent customer service: If customers have problems with their orders, they should be able to get in touch with someone who can help them quickly.
Focusing on the customer experience will make you more likely to retain customers and grow your business.
Conclusion:
These are just a few tips for starting a successful e-commerce business in Pakistan. But, it is not as easy as it seems. So, we suggest taking some professional help. Don't worry; we have got you covered— Mean3 is a leading digital marketing agency in Pakistan. We have a team of experienced professionals who can help you with all aspects of your eCommerce business, from developing your website to marketing your products.
Moreover, we can also guide you on how to start an eCommerce business in Pakistan step by step. Get in touch with us today to know more about e-commerce business in Pakistan.